Ecotemp l5 tankless water heater- review
This water heater is the perfect addition for a campervan Water System. It can heat up the water easily and make you enjoy your shower no matter the season of the year.
How it works
The Ecotemp L5 is a tankless water heater so it has no hot water tank, but the water is heated on-demand. This means you can heat up water and have a shower all day and never run out of hot water (as long as you don't run out of water or propane, of course). This type of heater is not common in Northamerica, but are quite common in Europe since they're more efficient than traditional water heating systems. They are easier to maintain and have lesser energy wastes as seen in this Eccotemp l5 review .
Water source
The heater is connected to a pressurized water system, and it's similar to any RV: it has a 25 gallons water tank and a Shurflo water pump to create the pressure to feed the appliances.
Settings
You can adjust gas and water as you want. The temperature depends on the combination of the gas/water setting. In the case of more water the temperature in the shower gets lower since there's more water flowing and it takes more energy to heat it.
The only remaining problem would still be the susceptibility to the wind that makes flames blow out. But this eventually becomes a minor and easy to fix issue. Some users have also reported that the iron pipes don't fit too well, and that you will have to use an extensive amount on Teflon to make it work and seal the leaks.
So, in resume, the pros are:
Compact and portable
Adjustable temperature
Quick heating
Shower head included
Can be used without electricity or in emergency situations
Very affordable
Light-weighted
Effortless installation and set up
Cons:
Flames goes out very easily
The hose is not that rigid and resistant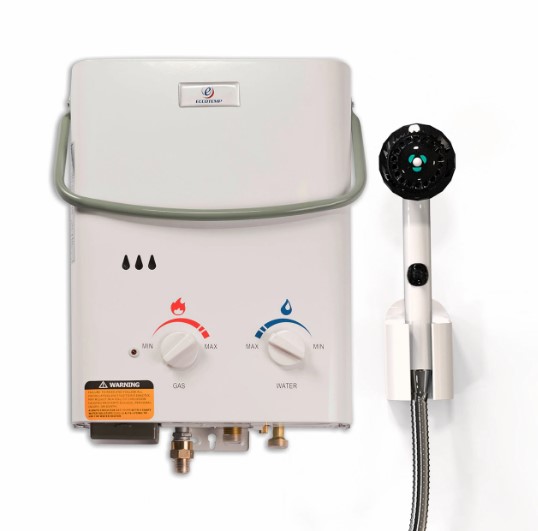 The Eccotemp L5 portable comes with a warranty of one, valid only if the unit remains in its original point of installation. This warranty doesn't cover damage due to frozen water in the pipes.