DeWalt dccs620p1 20 V compact 12" chainsaw review
DEWALT has been manufacturing outdoor power tools since over a year or so, and has added the new DCCS620 12" Compact Brushless Chainsaw which has several features you can find in the 40-Volt or FlexVolt chiansaws such as tool-free chain tensioning, brushless motors, fixed-rate automatic chain oilers and Oregon Bar and chain. However, it has no variable speed trigger, but this 20-Volt model can run at 25.2 feet per second when the trigger is pulled.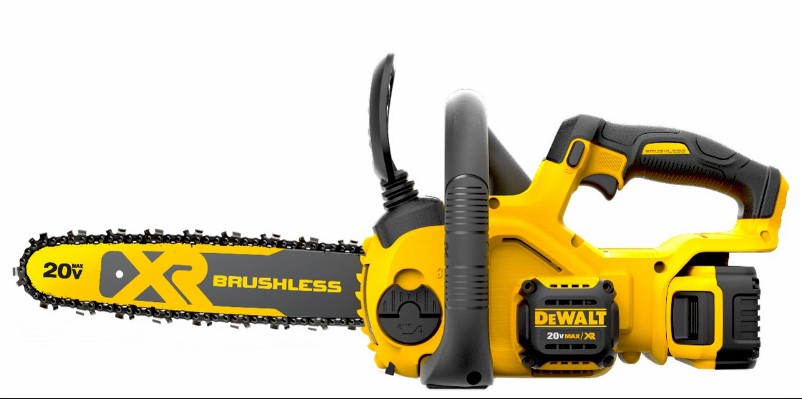 Dewalt DCCS620B 20V Max Compact Cordless Chainsaw Kit Bare Tool with Brushless Motor. Can Dewalt's 20 v max battery properly power a chainsaw? YES it can. The combination of brushless motor and the battery do quite well indeed. Although this chainsaw won't be suitable for fallingcutting trees, it will limb, trim and cut dry lumber very well, and it's surprisingly resilient through our test cutting up a pine tree dropped a few days before as seen in this DeWalt dccs620p1 review. It had no thermal timeouts nor overloads.
DCCS620 Features
Several items look the same in this model. The chain tensioner is most likely a shared ítem between al three of their battery saws, but the chain oil fill cap feels a bit weak, so you should take care in adjusting it and it lacks of a variable speed trigger, might be because the motor doesn't have enough torque to run at lower RPMs. But the saw looks pretty good in general.
It's perfect to trim trees and clean put a mess after a storm, it's perfect for cleaning areas in the woods and other applications, so this saw has a large grou that will enjoy using it!
Specifications
Chain guage 0.043
Chain pitch 3/8
Chain speed 25.2 ft/s
Compatible with DeWalt 20v max batteries
Oregon bar and chain 12″
Weight 8.8 lbs
The best option for the money is the Dewalt DCCS620P1 since it operates on a 20V battery, has a chian speed of 25.2 feet/second and a comfortable and compact design that allows you to hold and handle it easily, and only weighs 8.8 lbs.