The Perfect Summer Awaits You
What a better way to enjoy those warm days of summer than with a great barbecue, sharing with your friends and family, having a cold beer and enjoying a perfectly cooked steak? With this grill you can do it, you can carry it with you to the pool, the beach or when traveling.
Why Buy a Weber Gas Grill?
When it comes to gas grills, Weber really make a difference. One of the main reasons why is the brand, you're buying a high quality product with reputation and warranty. That being said, the price is the best part. It's a really affordable grill and you can always find discounts.
Lots of cooking area for about 4 people
With this grill Weber Spirit E-210 you have about 450 square inches for cooking with more than enough heat (50,000) to get the job done. You don't have to worry about trying to make space for the meat, you can actually place big cuts. Burners are evenly spaced to distribute heat evenly and effectively. The heat distribution is so good that you can place the meat anywhere in the cooking grate and still get it done.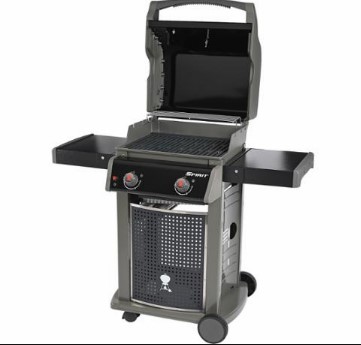 High quality design
Weber Spirit E-210 has a really smart design to make things easier. Each part is firmly placed and its construction materials are of high quality. You can easily get rid of the grease thanks to its draining system, useful to avoid flare ups. Easy to use control panel. Everything you need to control this grill is usefully placed in the front, very easy to use controls.
Large fold-able stainless steel tables
It features foldable tables that suits perfect if you need more space to put a plate of meat, cutting or just to place your beer. Handy Propane Fuel Gauge. With the fuel gauge of the Weber Spirit E-210 you don't have to worry about running out of fuel, it will show you when you need more so you can complete your cooking as shown in this Weber Spirit E210 review.