Performance
Troy Bilt Storm 2410 snow blower works fairly well, but definitely won't clear up 12 inches of snow as advertised. The machine doesn't bogs down under normal snow conditions, but don't expect it to carve through compacted drifts or slush without some back and forth.
The machine needs to be coaxed inch by inch through the snow if the snow load has crossed over critical mass.
It deserves some credit for being designed true to service, when it does gets bogged down, the steel auger, plow and impeller even if the 2410 has to go inch by inch and dump slush just the other side of the auger, it does it, and without damage as seen in this Troy-Bilt Storm 2410 review.
Thoughts on the Troy Bilt Storm 2410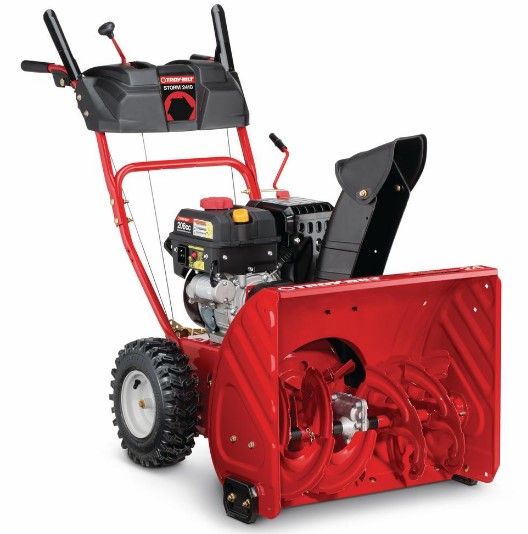 It is an undeniably rough machine on the edges and it may lack sometimes of more modern features, but it is a great machine for the price, offering a traditional workhorse two-stage platform.
A snow thrower can direct the snow where you want it, eliminating snow piles. This is a great snow blower for Chicago crazy winters. You need a 2 stage snow blower if you're prone to drifts. The 2410 even has mounts to add drift cutters and can cut 24″ width into 21″ high intake. One of my favorite features is that it comes with big reflective stripes and the paint job screams visibility, a nice and safety iddition since you're turning around the street most of the time.
The engine has a dedicated oil drain tube to make quick maintenance. A big metal 2qt fuel tank and a 179cc Troy-Bilt motor. 7 forward and 2 reverse speed propel pneumatic 13″x4″ tires. Includes X-Trac technology that gives and impressive traction and AWD and also can be easily pushed forwards or backwards manually.
The chute has a manual rotary handle for direction and adjustable for height.This is definitely a great buy, if the features we've presented to you adjust to your needs, don't hesitate and go buy one! 24 inch-Bilt Snow Blowers have the same warranty as the more expensive models and are ideal for homeowners with a two car driveway who get 60 inches of snow or less every year.
Want to get started with beekeeping? Then read the article about apiaries.