Ryobi digital inverter generator review
Every person has a different need to purchase a generator. One may need it to power up his tools when working away from home. Another when taking a trip or sporting. And even to use it as an energy backup in case of an outage. But in any case, when you're looking for a portable generator, what you're looking for is portability.
With a weight a bit over 50lbs, the Ryobi RYi2200 is much power in a small size, starting up with 2200w power and running at 1800w continuous. That's to say, this device could light 18 10w light bulbs at once. Ryobi achieved to concentrate all this power inside a model not taller than 17 inches, 21 inches long an about 11 inches wide. To simplify its transporting, it includes two carrying handles, so that two people can lift it and move it, and a extendable handle to roll it upon plane ground.
You can find all the main components of the device in a frontal control panel. It has two 120-volt AC outlets and a 12-volt DC outlet with a cable included, with its own circuit breaker, for charging lead batteries as shown in this Ryobi 2200 generator review . It also has three warning lights: one indicates that the apparatus is working, another warning about any overload, and the third telling you when oil running out. It can also be connected to another inverter generator by a parallel kit (not included).
The best part is that this generator is very easy to starts up. The Ryobi RYi2200 has one handle to stop, to start and run. And just pulling the starting rope once or twice, you have the device ready to use. At its first use, it may require a little more exertion to get fuel through the fuel system.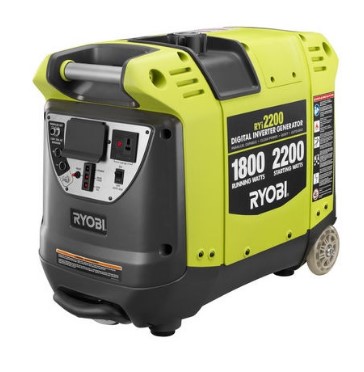 Portable Inverter Generator by Ryobi
Being an inverter generator, it can supply energy to more delicate appliances, such as laptops. When you're outdoors and you want to feel some of the comforts of home, this device can easily meet to your needs. Ryobi RYi2200 is cheaper than Honda Inverter. Ryobi RYi2200 Inverter Generator Color Gray w320 The Ryobi RYi2200 portable inverter version can supply 1800w while running for a few hours and 2200w when starting for a few seconds.