Most users are satisfied with the KC2000 and are in love with this model. It's really worth its pricing, and it's a dependable fridge. If you happen to have a problem with it, technical support responses quickly and is happy to help you with your issues. It comes to handy for the use you're going to make of it, and fits the space you have available. If it is what you need, we can say it's a great choice for a home kegerator.
The KC2000SS is our mid-budget option, if you want a full-size keg dispenser and you have enough space and money.
Pros
Easy setup and operation as seen in this Edgestar kegerator kc2000 review
Once settings are made, CO2 and temperature are steady
Many additional features mean it's worth its cost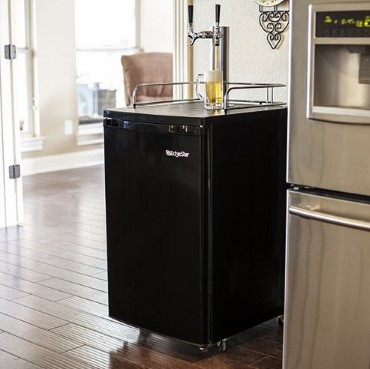 Cons
Cannot hold oversized or rubberized ¼ barrel kegs and beveled ¼ barrel kegs.
Setting the thermostat to get the right temperature is needed
Lacks inner light source
Inaccurate temp regulator dial
Frequently asked questions
When you're making such a buy, you want to make sure to dispel all of your doubts and you're absolutely aware of what your acquiring. Here are some common questions you should have the answer to.
Q: Can I use the KC2000 outdoors?
A: This model is for home use only.
Q: Can I install it in so that the cabinetry surrounds it?
A: No, this model is made to be autonomous. If a built-in model is needed, you should move up to a KC7000SS.
Q: Is there anything else to buy in addition to be able to use this appliance?
A: It comes with every part required, except the carbon dioxide load and a beer keg! There's no extra buying needed.
Q: How long can this kegerator keep my beer cold?
A: This kegerator can usually keep a beer keg cold for six or eight months, if you keep it at the proper pressure and temp. Once I kept a keg fresh for almost twelve weeks.
Q: What are the sizes of this kegerator?
A: It's 24,81" deep, 48,5" high and 20,1 wide. Its weight is 81,6 lbs.